the bilbo founders
William E. Bray
(1937-2021, Co-Founder)
Bill has been an author, an arts administrator, the founder of one of the nation's first alternative newspapers, a filmmaker, a teacher, an impassioned mentor and about thirty other things. Originally from Dalton, he studied at some of the most distinguished universities in the western world, including Yale University, Johns Hopkins University, Harvard University, Oriel College at the University of Oxford, and the University of Georgia. His Georgia Fine Arts Academy (a nonprofit organization founded in 1980) has helped hundreds of aspiring visual artists, actors, filmmakers, musical artists, architects, and writers achieve their dreams. The Academy has also helped children with developmental disabilities and underprivileged students round out their education and discover a larger world.
Bowen Craig
(Co-Founder, Editorial Director)
Bowen is an author and editor. He wrote his first book at age twelve and has been editing since age seven (His mother was an English professor whose students were unaware that their professor's elementary school-age son was grading their papers). Bo has written three novels, has a couple more in the till, and has contributed to newspapers, magazines, blogs, theatrical productions and films. Another proud native Daltonian, he was graduated from Davidson College and has studied at Flagler College in St. Augustine and the University of Tennessee at Chattanooga. He has also worked as a psychiatric social worker, an environmental fundraiser/lobbyist, and as a teacher. He enjoys participating in book clubs and writers' groups.
When talking about the history of Bilbo Books Publishing, Bill was always quick to point out that the story was never about him or Co-Founder Bowen Craig. "Our story has always been about people—the people who write and read, the Bilbo family," he would say. Even in his 80s, Bill made time to visit authors and review story ideas.
He believed in leading by example, having mentored Bo for many years to consider their mission a multi-faceted ministry that helps others find their voices, tell their stories. As Bill often said, "Bilbo's success is based on our ability to clearly understand the needs of our authors, both in Athens and around the world." And the Bilbo Books Publishing family is honored to have the opportunity to continue the founding vision of creating a bright future for Bilbo and for our authors and readers.
the bilbo team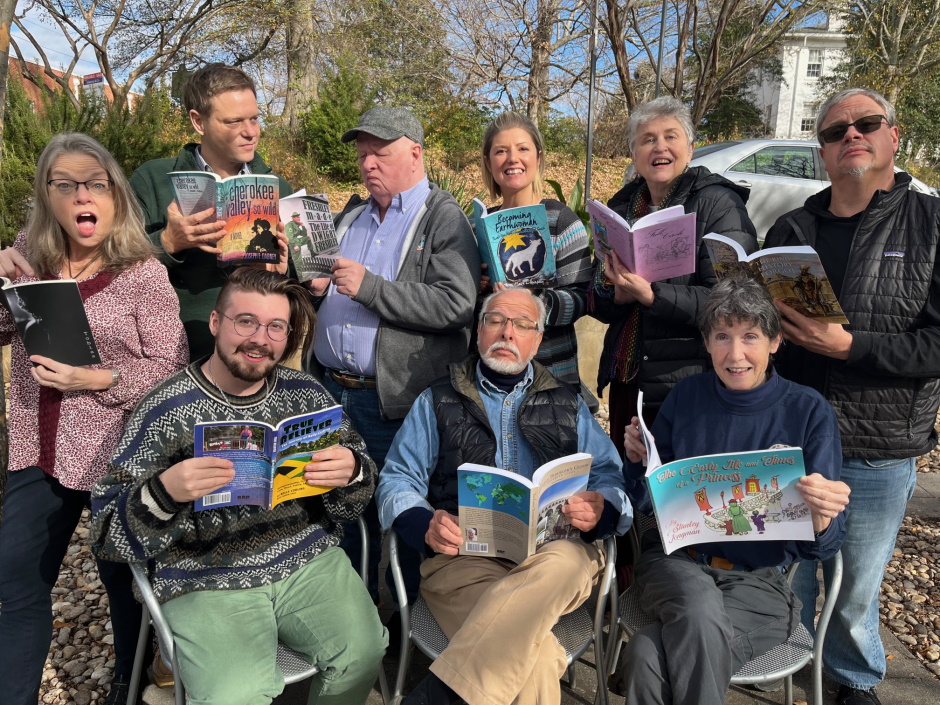 Van Alex Burns
(Graphic Designer)
Van grew up in the North Georgia mountains where he attended Young Harris College, and graduated from The University of Georgia in 1971. He got his MFA in Painting from Cranbrook Academy of Art in Michigan, where he also studied Graphic Design. He worked at several graphics studios in Atlanta and was Editorial Cartoonist for Creative Loafing for 18 years. Van has spent most of his career working as a freelance graphic designer, which he enjoys to this day. He and his wife Denise have lived in Athens since 1997, and he currently coordinates adult programming for the Athens-Clarke County Library.
Karen Flathe
(Web Designer)
Karen has been building and maintaining websites for a couple of decades. Appalachian State University in NC is where she got her Bachelor's degree in a field that is totally unrelated to her computer-related work. Karen found her passion for beautifying the World Wide Web following a successful career managing a ski sales/rental and whitewater rafting business in Colorado, followed by a successful career in computer technical support in Atlanta, with a few other gigs thrown in for good measure. When she's not busy manipulating pixels, Karen is usually absorbing lessons from 3 fur-kids on how to be a better human.
Christopher Dane Kreeft
(Content and Copy Editor)
The newest addition to the Bilbo team, Dane, an historian, editor, and researcher, was graduated from the University of Georgia in 2020 with a dual degree in History and Classics. He enjoys working on academic writing, fantasy, and memoirs. Dane has a strong passion for material history, languages, teaching and working with students. Most often found draped in colorful headbands and reciting Ancient Greek texts, he's our go-to guy when any of our authors' lingering manuscripts needs a bellows to reignite their creative bonfires. He's focused on furthering his education in his specialized fields bringing history to life, everywhere from classrooms to coffeehouses.
Joy Ovington
(Director of Publishing Operations)
Joy has logged over four decades of functional experience in seeing projects through to fruition. She has worked in areas of strategic planning, human capital, team building, marketing, and all aspects of arts administration. She's a line editor, a proofreader, and she's written for newspapers in three states, primarily as a color writer. Once she met Bill and Bo in 2011, she was launched into a copyediting spree that's helped her to now be able to do more for Bilbo's authors. She's studied at Cornell, with the National Theatre, and holds degrees from FSU and the University of Alabama. A serial comma enthusiast and cat lover, Joy enjoys performing and serving on nonprofit Boards.
Theresa Rice
(Developmental Editor)
Theresa has written and edited everything from bios, feature stories, press releases, short stories, award winning blog posts, novels/treatments, educational materials, grants, catalog copy and more. She has edited biography, auto-biography, adventure, fantasy, comedy, food writing, mystery, and science fiction. She leaves poetry and screenwriting to the experts. Theresa is a two-time recipient of artist/writers residencies and has advised arts organizations on planning and best practices. Her past includes years spent as an artist and graphic designer, along with a successful career as a professional chef. She resided in Athens in the 1970's, and felt the magnetic pull back to Athens in 2017. She's been here ever since.
Dan Roth
(Graphic Designer)
Dan is the owner of Athens Creative Design, LLC. He has lived in Athens for 22 years and has provided recognizable interpretive history designs for many of Athens-Clarke County's public areas, including the Oconee River Greenway, Lyndon House Arts Center, Athens Welcome Center, Ben Epps Airport, and the Multimodal Transportation Center. Prior to launching his own company in 2014, Dan worked for the University of Georgia, as well as The Red & Black Publishing Company in the capacity of Media Specialist and Creative Director, respectively. He has a BFA from Wayne State University in Detroit, MI. Dan is also a professional touring musician with several event bands in the Southeast.
Sarah Klipper
(Graphic Designer)
Growing up in West Virginia's Kanawha Valley, Sarah was raised on a steady diet of sci-fi and fantasy novels, comics, and Star Trek. She studied Art and Graphic Design in Pittsburgh, and eventually followed her now-husband to Athens, GA. Sarah has a deep love of stories in all forms, though she gravitates most to text and visuals. She has done a variety of things from corporate logo printing to producing audio textbooks to being a YouTube Let's Player. Hobbies include collecting random knowledge, drinking tea, video games, painting, and snuggling a cat.
Tracy Coley
(Graphic Designer/Copy Editor)
Tracy is owner of Lucky Dog Press, LLC, providing editing, writing and graphic design services for local writers, including Bilbo Books. She worked for nearly 30 years in marketing and communications for the University of Georgia and is former editor and digital marketing specialist for Boom Magazine. Tracy earned an ABJ in advertising and an MFA in narrative nonfiction from UGA's College of Journalism and Mass Communication. In her spare time, Tracy writes about family, faith, grief, resilience and the human spirit, and enjoys deep diving into genealogical and historical research. Tracy has taught Graphics for Journalists and currently teaches Journalism Writing and Reporting Across Platforms at UGA.